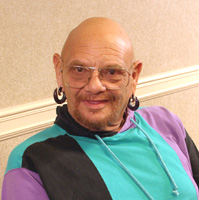 DOB – 11/25/1948
This is a current photo of Bill Levy, who is the co-owner with his homosexual live-in lover, Alan Berger, of a tattoo, body piercing, drug paraphernalia shop in Gulfport, Florida, named, Balls of Steel.
Balls of Steel is located in the Tampa/St. Pete metropolitan area at 5008 Gulfport Blvd. S., Gulfport, FL 33707, (727) 322-8300, [email protected] (e-mail).
Balls of Steel is a drug paraphernalia shop affected by the new Pinellas County Drug Paraphernalia Ordinance, which will make it a criminal offense to sell drug paraphernalia knowing that it will be used to ingest drugs. (St. Petersburg Times, Paraphernalia Law Approved, by Will Van Sant, October 11, 2006).
Balls of Steel is also a tattoo and body piercing shop and a member of The Association of Professional Piercers ( http://www.safepiercing.org/memFindSQL.php )&nbspscroll down in the site to see Bill's listing.
Bill Levy and Alan Berger are joint tenants and owners of a residence at 2790 Cordova Way South, St. Petersburg, FL 33712 (Lot 21, Lakewood Shores Subdivision, Plat book 94, pages 36 and 37, of the public records of Pinellas County, Florida).
Bill Levy is on the Board of Directors of St. Pete Pride Inc., a homosexual and lesbian 501 (c)(3) non-profit organization that promotes homosexual and lesbian social events and activities and sponsors the annual St. Pete Pride Promenade and Street Festival, held in June. Levy also maintains the Pride in Paradise website for St. Pete Pride Inc., located at 3170 3rd Avenue North, St. Petersburg, FL 33713, ( http://stpetepride.com/contact.html ).
Bill Levy has also been implicated in running online scams and ripping people off by selling merchandise he never delivers. His victims have posted warnings at online trade site forums entitled: DO NOT TRADE WITH BILL LEVY, warning others of his scams and uncovering his many aliases he uses to cover his illegal activities. ( http://www.vhtrading.com/forums/archive.php/o_t__t_6124__start_0__index.html ) and ( http://www.vhtrading.com/forums/thread.php?topic_id=6124 )
History
Bill Levy and his parents, often gave personal testimonies praising Tony and Sue and the Church on numerous television shows, in news articles and in legal proceedings, about how Bill had been saved from a former life of heroin and cocaine addiction, homosexuality, murder and armed robbery: (TSAF TV Show # 22, Nashville, TN., 9/19/74;
Susan Alamo Speaks Out, TV Show # 9, Fort Smith, AR., 1981;
Way Out West TV Show, Whicker England, Allan Whicker, 7/1973;
Southwest Times Record, Dad Has No Qualms About Son With Alamos, 6/20, 1977;
Tulsa World, Man Says Alamo Influence Saved Him From Being Killer, April 30, 1982;
Arkansas Gazette, Alamo Worker Testifies Pay Would Be Offensive, April 30, 1982;
The Tennessean, Prosecutor Asked To Justify Assumptions in Alamo Case, 4/30/82;
Southwest Times Record, Workers Testify in Alamo Case, 4/29/1982;
Raymond A. Donovan, Secretary of Labor versus Tony and Susan Alamo Foundation, 1982. Levy even told people about an incident before he came to the Church of how he and his friend had tortured a prostitute by hanging her by her wrists, then cutting off her tongue and letting her bleed to death, hanging in a basement.
Bill Levy was put out of the Church in 1985 for stealing and other reports. He immediately started bringing lies and accusations against the Church seeking to gain custody of 11 year old Rebecca from her mother, and caused Arkansas State Troopers to raid and search over 100 homes in search of Rebecca and her mother.
Levy later moved to the Tampa/St. Pete area and was contacted and interviewed by Mike Earp of the United States Marshals Service on March 11, 1991, in an effort to solicit his false testimony to substantiate their charge against Pastor Alamo of threatening to kidnap Federal Judge Morris Arnold.
According to government records, In a telephone interview on March 12, 1991, Levy falsely stated that Pastor Alamo carries up to 3 guns on his person; one in an ankle holster, one in a shoulder holster, as well as one in his pocket and that Pastor Alamo was closely associated with Gordon Kahl, and had the same ideals on tax protesting. As a result of these false statements, the USMS determined that extreme caution was warranted.
Then again on 11/8/1993, according to government records, while Levy was attending a Nursing School in Florida, Chris Belcher of the US Justice Department, contacted him at his Tampa/St. Pete number, (813) 238-6953. Belcher was soliciting testimony to substantiate their false tax charges against Pastor Alamo. Levy told Belcher he had to take his final exams to become a registered nurse at the Nursing School and Belcher said that he would talk to his professor and work it out for Levy if he would come testify against Pastor Alamo in Memphis.