Cantad a Jehová cántico nuevo; Su alabanza sea en la congregación de los santos. Salmo 149:1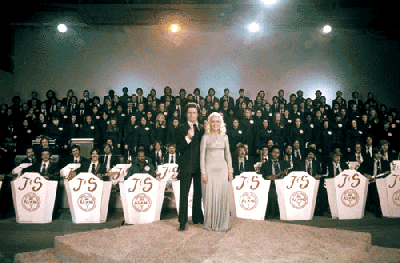 Tony y Susan Alamo con la orquesta y el coro de la Fundación Cristiana Alamo en el plató de KCOP TV en Hollywood, California grabando su sindicado programa de televisión en 1973.
Música y cánticos llenos del Espíritu Santo es y siempre ha sido una de las partes más importantes del Ministerio de la Iglesia Cristiana de Tony Alamo.

La música y los cánticos toman una parte grande al principio del servicio abriendo los corazones y las almas para recibir el mensaje. Unge mucho más a los que ministran trayendo los testimonios y el mensaje del trono del Altísimo Dios. En nuestros programas de televisión así como en cada servicio, yo siempre empiezo con oración, cántico de Sion, y canciones calurosas por los músicos y cantantes llenos del Espíritu Santo.
Grabaciones Musicales para Trasvasar y Disfrutar (en inglés):
Cantadas por Tony Alamo
Más Canciones de Tony Alamo:
No Man Is An Island
What A Friend We Have In Jesus
Sweet By And By
My Tribute - To God Be The Glory
Angel Band
Alamo Sisters Quintet:
Righteous Brothers:
I've Got My Ticket
Build Right On That Shore
John The Revelator
Call On Me
My Lord's Done Just What He Said
In the Service of the Lord
Touch the Hem of His Garment
Shadrach
Lord, I Thank You
Gone
Old Blind Bartimeus
Daniel Saw The Stone

Fague Springman:
Ride On King Jesus
Prepare Me One Body
Jesus Walked This Lonesome Valley
Swing Low, Sweet Chariot
Joshua Fit The Battle Of Jericho
Shadrach
Were You There
View: Pastors Tony and Susan Alamo archived television programs
Cómo Comunicarse Con Nosotros
Para cualquier comentario, o para ordenar cintas o literatura para distribución mándenos un e-correo a:
e-mail:
Tony Alamo Christian Ministries
o escriba a:
Tony Alamo Christian Ministries
P. O. Box 2948
Hollywood, CA 90078 U.S.A.
Línea telefónica de veinticuatro horas para oración e información: 661-252-5686