Satan's one-world government says we can be innocent and still be on death row
OUR "ACTUAL INNOCENCE DOES NOT MATTER" to Rome
by
Tony Alamo
"Woe to the inhabiters of the earth and of the sea! for the devil is come down unto you, having great wrath, because he knoweth that he hath but a short time" (Rev. 12:12). Jesus said, "If I cast out demons by the Spirit of God, then the Kingdom of God has come upon you" (Matt. 12:28, orig. Gk.). Any time the Spirit of God's Kingdom is truly manifested on earth, it will ultimately confront the strongholds of Hell.1 At present, the world is the stronghold of Hell. This is the truth. It is a fact.2 Wherever evil spirits have a stronghold or even a foothold in this world, you can be assured that the overcomers, which are the members of the true church of God, the body of Christ, will be engaged in spiritual warfare against them.3 You can also be sure that "the gates of Hell shall not prevail against it [them]" (Matt. 16:18).4 By overcomers, I mean the members of Christ's body, the church, which was built and continues to be built by the life-giving Spirit, Jesus, both living in us and working through us.5
The true church of Christ is not a religion.6 Christ didn't come to the world to bring religion.7 He came so we could, by following God's planned procedures, have God's life, which is eternal, living in us.8 He also came so we could "have [eternal] life...more abundantly. [He means more growth of Christ in us daily,]" when we partake daily, of His Word, which is Spirit and life]" (John 10:10).9 By partaking, I mean showing our faith by doing that which His Words command us to do, which is to say "no" to the tempter before the eyes of God and everyone who observes us in our immediate community and elsewhere.10 " Yea, a man may say, Thou hast faith, and I have works: show me thy faith without thy works, and I will show thee my faith by my works" (Jas. 2:18). If Jesus hadn't done great and mighty works, no one would have believed He was God in the flesh.11 And if we, Christians with the full Godhead living in us, don't allow God to do His mighty works both in and through us, no one will believe that we are of God.12 Jesus said the same thing in these words: "Believe Me that I am in the Father, and the Father in Me: or else believe Me for the very works' sake [the works that I do]" (John 14:11).
Christ was in no way a part of religion.13 He was conceived in Mary's womb in the city of Nazareth, not in Jerusalem, where the religious temple was.14 He was born in Bethlehem of Judea, not in the religious temple in Jerusalem.15 He preached on the hills, in the mountains, by the sea, in the desert, and in villages, towns, and cities.16 When He spoke to the Pharisees, Sadducees, and scribes at the temple, it was to rebuke them.17 He rebukes all religion by saying, "No man cometh unto the Father, but by Me" (John 14:6). "He that entereth not by the door into the sheepfold, but climbeth up some other way, the same is a thief and a robber" (John 10:1).

JUST SAY "NO"
It is of the utmost importance for the mature Christian to realize that the spiritual battle we wage against Satan in this present world is against Satan's attacks on our minds and our flesh.18 His manner of warfare is the fiery temptations he sends against our minds and our flesh.19 The tempter, the devil, and his evil angels wage these battles through his "principalities,...powers,...the rulers of the darkness of this world, [and] spiritual wickedness in high places," which in this world consist of the demons living in all his followers, those who are controlled by Rome, its one-world religion, its government, and its media (Eph. 6:12).20

The way we are instructed by the Lord to break the strongholds of Satan, the tempter, is to simply say "no" to his temptations.21 His strongholds are the peoples of countries, communities, and even the whole world.22 "Satan...deceiveth the whole world [all the peoples of the world]" (Rev. 12:9).

Again, the fiery darts of Satan, the tempter, are the temptations he fires at our minds, at our thinking processes, and at our flesh.23 Our minds may become a residence or hotel of thoughts and satanic meditations.24 The tempter transmits all of his wicked, evil thoughts and imaginations into the minds of the entire world population.25
The entire Bible tells us that after salvation, we are to keep all of our hearts, souls, minds, and strength on the Lord.26 If our thoughts and our meditations are on politics, money, amusement, music, worldly ambition, colleges, universities, schools, false religions or cults, arts, crafts, merchandising, construction, decorating, recipes, sports, clothing, and the thousands of other distractions from the tempter, that he, Satan, is continuously planting in your unguarded brains, your minds, your thoughts, and your meditations will not be centered solely on the first commandment of the Lord, which is to "love the Lord [your] God with ALL [your] heart, and with ALL [your] soul, and with ALL [your] mind, and with ALL [your] strength" (Mark 12:30).27
People who are in darkness, people who are lost, people who are on their way to Hell and the lake of fire, never think of the above-mentioned things as being sin or fiery darts from the wicked one. They never think of these things as taking their hearts, souls, minds, and strength away from meditating on the Lord both day and night.28 Psalm One tells us we must be as trees planted in the Holy Spirit, which is the Living Water, Christ, God's Word, or His breath in us, for eternal life.29 God's Word also tells us that anything which keeps us from focusing on the Lord is the devil, and is sin.30 These seemingly "little" things are extremely subtle and extremely evil when doted upon,31 by this, I mean if you are excessively or foolishly fond of anything other than the Lord.32 If our minds are on things other than the Lord, these things are an extravagance we cannot afford. Why? Because by thinking about these things that have no eternal value for us or for anyone else in the world, we are damning our souls to the eternal lake of fire.33 They cause us to break the first commandment, the most important commandment of them all, which is to love God with ALL our heart, ALL our soul, ALL our mind, and ALL our strength. If we break the first commandment, we've broken them all (Jas. 2:10).34
Any distraction which takes our hearts, souls, minds, and labors from that which God commands us to do is the same as the evil thoughts and satanic meditations fired from Satan into our brains.35 Everyone in the world is Satan's target, and with most, he has hit a bull's-eye. Again, God said Satan "deceiveth the whole world" in these last days. (Rev. 12:9)
EVERYTHING
Jesus also said we are to be zealous and enthusiastic in serving Him.36 We are to serve Him with zeal, and with enthusiasm, with ALL our heart, with ALL our soul, with ALL our mind, and with ALL our strength (Mark 12:30). All those who will spend eternity in Hell and the lake of fire call the preaching of the gospel foolishness and fanaticism. Those who say such things are fanatics for the devil. They are insane for him, according to Holy Scripture.37 The nations have drunk of Babylon's wine; "therefore the nations are mad [insane]," not the children of the Lord (Jer. 51:7).38 The word "mad" in Webster's means: "disordered in intellect; crazy; insane; delusion or want of reason; foolish [a fool is one who doesn't believe in God39]; rashly or ruinously foolish;40 imbecile; senseless; dazed; stupefied."
"For the preaching of the cross [of Christ] is to them that perish foolishness; but unto us which are saved it is the power of God. For it is written, I [God] will destroy the wisdom of the wise, and will bring to nothing the understanding of the prudent...hath not God made foolish the wisdom of this world? For after that in the wisdom of God the world by wisdom knew not God, it pleased God by the foolishness of preaching to save [only those] that BELIEVE" (I Cor. 1:18-21). If the whole world wants to be lost, then let them. "But as for me and my house, we will serve the Lord" (Josh. 24:15). We shall spend eternity in Heaven.

God told me if I write against Rome, Rome's evil one-world cult religions, government, and media, and distribute my writings throughout the world that I shall not be destroyed by the devil, the Antichrist, the Roman cult, its government, and its church. You shall not be destroyed by Satan either if you do not yield to the tempter's temptations.41 Again, we are the church, and "the gates of Hell shall not prevail against it [us]" (Matt. 16:18).42 By this I mean you will not be destroyed if you say "no" to the tempter when he fires his fiery temptations at your mind, and your flesh.43 " Above all, [take up] the shield of faith, wherewith ye shall be able to quench all the fiery darts of the wicked [the tempter]" (Eph. 6:16). These degenerate and negative ideas, thoughts, and meditations of Satan, the tempter, are first projected into the unregenerated and regenerated minds of people. Then they are acted upon, fulfilled by people participating in Satan's demonic activities, activities we see increasing in the world each and every day.44
We are to "[Give no] place to the devil" (Eph. 4:27). We give no place to the devil by exposing his activities and by showing, through the Word of God, that these things which are happening today are truly the activities of Satan, the tempter.45
If we love the Lord, we will act towards others as though they were the Lord.46 We will do everything we can to get the sinner saved, the sick healed, and the innocent people released from unjust sentences, while walking in His power, His life, His Spirit, His breath, His Word. Jesus did it, and He commands us to do it.47 Here are His words: "The Spirit of the Lord is upon Me, because He hath anointed Me to preach the gospel to the poor; He hath sent Me to heal the brokenhearted, to preach deliverance to the captives, and recovering of sight to the blind, to set at liberty them that are bruised, To preach the acceptable year of the Lord" (Luke 4:18-19).
Prayers to God are powerful.48 For our benefit, the Almighty tells us, "Before they call, I will answer; and while they are yet speaking, I will hear" (Isa. 65:24). "Call unto Me, and I will answer thee, and show thee great and mighty things, which thou knowest not" (Jer. 33:3). God can free innocent people, just as He freed Peter when "prayer was made without ceasing of the church unto God for him" (Acts 12:5). Always remember what Jesus said in these words: "Inasmuch as ye have done it unto one of the least of these My brethren, ye have done it unto Me" (Matt. 25:40). This is God's standard, and we shall be judged by this standard on Judgment Day.49

---
The following story by Mark Mize, an innocent man on death row, is just one of Satan's billions of atrocities committed through his Roman one-world government, which includes the "Justice" Department and the entire judicial system.

Pastor Tony,

Greetings in the name above all names, our Lord and Saviour JESUS CHRIST. I received the Alamo World Newsletter. Don't know who or how my name got on your list, but please put me on your permanent mailing list.

The article/interview with John G. Peeler hit close to my heart. You see, I am on Georgia's death row. Most people are not listening to me because it seemed like something a person of my reputation would do. With a past record and a history of being in several Klansman groups, I went to prison in 1987.

I quit the Klan. On parole, a friend of mine was killed by another friend. I was arrested, never questioned. Three others were arrested and one sent home. It was then told to be a "Klan" killing by the District Attorney (D.A.) and the Georgia Bureau of Investigation (GBI). They said the victim and I had changed out the electric panel in a "crack house" and knew how to gain entrance via the basement. The victim was supposedly ordered to set fire to the house, but the arson attempt did not catch fire except on the back deck.

They claim the victim was taken to a wooded area and shot for not burning the house down. I went to trial in December 1995. I (my appointed attorney) tried to call the guy who did it [the killing] as witness. His lawyer would not allow him to testify due to pending murder charges. Sent to death row, I was given an appeal attorney. He wanted to push to get me life without parole. I refused, maintaining my innocence.

Being a born-again Christian, I prayed. Prayer uncovers the darkness. [The Word of God uncovers all darkness.50 The Word of God instructs us all to "Pray without ceasing" (I Thes. 5:17) and to "Pray always" (Luke 21:36).]

I obtained an affidavit from the man that really did the murder and his attorney. The guy who did it admits he killed the victim, no orders, he was drunk and got into an argument and shot the man to death. His lawyer admits that he told her that he murdered the man. I had no part; I've murdered no one. I've never murdered one person, and I never will. The key witness now admits that she lied about me, and I have a statement from her admitting it. She lied to get me convicted because she wanted to be with her baby. The district attorney threatened to keep her in prison for life, and they were going to accuse me of committing murder so that I would have the death penalty. She would be on death row if she didn't lie against me. Finally, her conscience got the best of her. She told the truth. The district attorney kept her in prison for a year because she wouldn't lie about me. She then said she couldn't take it any longer. She lied to get out of prison, just as so many other people do.

In the sworn statement that I have, she admits to perjury [to lying under oath]. An affidavit from the fire marshal found no arson attempt at the house where the prosecutor said arson had taken place. The prosecutor lied. Also, the maintenance company that performed work on the house for ten years swears no electrical work was done, as the D.A. claimed. But more enlightening was the fact the house they claim we knew how to access via the basement DOES NOT HAVE A BASEMENT. They need to find another house or dig a basement.

The crime happened, and I was arrested in October 1994. Because of my past in the Klan, none of the anti-death penalty crusaders will try to help. You would think the media would be all over a case of wrongful conviction with proof, like this one, but none of the press will touch it.

The issues I've mentioned are a brief sketch and have been filed in the Federal District Court in Marion, Georgia. I can go into more detail, if you like, in any of the areas.

It turns out I've spent the last nine years in here fighting state-appointed attorneys who want me to settle for life without parole because of my past. I stand firm and refuse to compromise. I did not kill anyone. I did not order anyone to be killed. I will not spend my life in prison for it.

It is interesting that in one filing where I kept insisting I was innocent, the [Georgia] State Attorney General's office responded that "ACTUAL INNOCENCE DOES NOT MATTER."51 Can you believe how bold they are?

Now you can see part of why the interview with Peeler caught my attention. Please send me information about your church and keep me on your mailing list to receive the newsletters. After nine years in here I cannot afford to pay except with my prayers.

Feel free to ask any questions. If someone in your church would like to write to a prisoner, I will answer all letters. The only rules the prison has is the letter must have a return address on the outside of the envelope.

Thank you for your time. Fight the good fight and focus on ISAIAH 41:10. May you be blessed in all you do.

A sincere brother in Christ,

Mark

P.S. Please feel free to pass my name and address on to others who might have mailing lists and would be interested in or would like to write a prisoner. Thanks.

William Mark Mize

GDC 159189 G.D. & C.P.

PO Box 3877

Jackson, GA 30233

---
A TRUE CONFESSION FROM THE REAL MURDERER
State of Georgia

County of Telfair

AFFIDAVIT OF

CHRISTOPHER ERIC HATTRUP

Comes now the Affiant, CHRISTOPHER ERIC HATTRUP, who, being first duly sworn by an officer authorized by law to administer oaths, deposes and states as follows:

1. I, CHRISTOPHER ERIC HATTRUP, am over the age of eighteen, and I am competent to testify to the truth of the matters set forth herein.

2. In October 1994, I was arrested and charged with the murder of Eddie Tucker in Oconee County, Georgia. Mark Mize, Samantha Doster, and Terry Mark Allen were also arrested and charged. After Mark Mize was tried and sentenced to death, I pled guilty to the murder and admitted shooting Mr. Tucker. I told the judge that I simply didn't know why I had shot Mr. Tucker, other than that I was real drunk at the time and I had a gun in my hands. I was sentenced to life with the possibility of parole, and I am currently serving my sentence at the Telfair State Prison in Helena, Georgia.

3. Since I pled guilty, I have tried to get out the truth of what happened that night in October 1994. And the truth is that I was extremely drunk, I had a gun in my hands, and I shot Eddie Tucker and killed him. At Mark Mize's motion for new trial hearing, I tried to explain this.

4. Earlier that night in October, 1994, we had been at a bar, and I drank enough alcohol to get me real drunk by the time we made it to the woods. Now, I was not real fond of Eddie Tucker'— I just didn't think much of him. And as I got more intoxicated at the bar I got into an argument with Tucker over some stupid thing that didn't really matter anyway. I felt angry and wanted to fight. Later we went out to the woods off Highway 78 to go camping. That had been the plan from earlier in the day. We had a gun with us because everyone where I come from usually brings some kind of a gun along for protection when they go camping in the woods. I remember that I got a hold of that gun and shot Eddie Tucker dead. Mark Mize was not with me when I shot Mr. Tucker, and I have never told anyone otherwise. As I recall, Mark Mize was real shocked and angry with me after I shot Tucker.

5. When I was arrested for the murder, I told the cops that this was what happened when you get all messed up on alcohol like I did.

6. There was never any plan to do away with Eddie Tucker. And there was never any plan or attempt to burn down a crack house. I certainly never had anything to do with any such thing, and I have never told anyone otherwise.

7. Up to the time I pled guilty, I had an appointed lawyer named Jo Carol Nesset-Sale. At some point early on I knew, from her telling me, that the state's theory of the case was that Mark Mize had ordered me to kill Mr. Tucker. Now, I was facing the death penalty. I had a son. Ms. Nesset-Sale told me that if that was the theory, then maybe I had a chance to get out from under the death penalty and live to see my son grow up. She indicated to me that the police and the District Attorney really wanted to nail Mark Mize, and that if I could remember someone ordering me or prodding me to shoot, that that would help me. So I told her that I thought maybe someone might have done that. But that was not the truth. That was what I said to help myself. I have never had any memory of anyone pushing me to do anything.

8. Killing someone is hard to live with, and I have had a lot of time to go over and over the events of that night. I know that I shot Eddie Tucker all three times. I remember Mark Mize being shocked and angry when I came out of the woods, and we ran straightaway back to the car. If Mark Mize is guilty of anything, he is guilty of trying to clean up after my mess.

9. Believe me, I wish I could blame all this on someone else, but I can't in good conscience do that. Unfortunately for me and Mr. Tucker, this case is all about what happens when you mix guns and alcohol. I wish I could go back and change what happened. I can't do that. But I can try and make the truth known so that Mark Mize is not caged and killed for something he didn't do. I want the public and the courts to know that I am solely responsible for Eddie Tucker's death, and that if Mark Mize is executed, then the state will have killed an innocent man.

Executed this 17th day of August, 2000,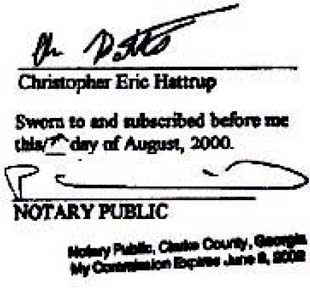 CONFESSION FROM THE MURDERER'S ATTORNEY
State of Georgia

County of Clarke

AFFIDAVIT OF

JO CAROL NESSET-SALE

Comes now the Affiant, Jo Carol Nesset-Sale, who, being first duly sworn by an officer authorized by law to administer oaths, deposes and states as follows:

1. I, Jo Carol Nesset-Sale, am over the age of eighteen, and I am competent to testify to the truth of the matters set forth herein.

2. I am an attorney practicing in the Athens area. I was appointed to represent Christopher Eric Hattrup after he was arrested and charged with the murder of Eddie Tucker in October 1994. When Chris was arrested he made statements to the arresting agents that he had really messed up and that was what happened when you got drunk. Throughout the course of my representation of Chris, this remained his sense of what had happened that night.

3. Chris's story to me was that he, Mark Mize, Tucker and the rest had decided to camp out in the woods near Highway 78 and the Appalachee River that night in October 1994. According to Chris, they took a gun into the woods for protection. Chris insisted there was never any plan to kill Tucker, but rather he and Tucker had been drunk and had argued for some reason at a bar just prior to the homicide, and then Chris had shot Tucker.

4. At some point I told him that the state's theory of the case included the alleged arson attempt on the Athens "crack house." I knew that part of the story was going to be important because Tucker's alleged failure to light the fire helped show Mark Mize's motive in supposedly getting Chris to shoot Tucker. From the time he heard of the arson allegation, Chris insisted that there had been no arson attempt that night. When we heard what Paul McDonald, his roommate, had eventually said about the arson, he was angry. Chris was adamant that he had never told McDonald about any arson. He suggested that McDonald made that up to avoid drug charges stemming from the large amount of McDonald's marijuana that was lying around the house when the police searched it.

5. When I looked at the other witnesses' (i.e., Samantha Doster, Brian Dove and Mark Allen) statements and testimony, I noticed how they changed their versions of the events of that night and created more elaborate scenarios after having been debriefed by police and the D.A.'s office. I wondered if they had seen each others' statements. I was quite concerned unreliable, and (perhaps) newly minted testimony was being used to secure capital offense convictions.

6. It was clear to me that the D.A. was trying to use the alleged "Klan" connection to bolster what was really a weak case for premeditated murder against anyone. It always seemed odd that the state was determined to make Mize the really bad guy in this incident, when the most credible evidence gave him at best a secondary role. Because Chris denied a key part of the state's case (the arson) and admitted to shooting Tucker, I was able to work out an arrangement with the D.A. whereby Chris would plead guilty and receive a life sentence after Mize's trial, which prevented Chris from taking the stand at Mize's trial. At Chris's plea colloquy, when asked why he had shot Eddie Tucker, he told the court that he did not know why he had done it, a statement consistent with what he had told me during the entirety of my representation of him.

7. I was called to testify at Mark Mize's motion for new trial hearing. Chris had waived the attorney-client privilege and I talked about what Chris had told me about the shooting. Mize's lawyers never asked me what Chris had said about the alleged arson attempt. I would have said the same thing I have said in this affidavit if I had been asked.

Executed this 16th day of September, 2000,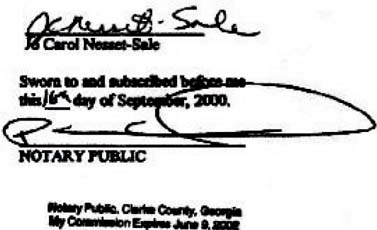 A CONFESSION FROM THE
EX-GIRLFRIEND OF THE INNOCENT MAN, MARK MIZE
State of Georgia

County of Fulton

AFFIDAVIT OF

MARY SAMANTHA DOSTER

Comes now the Affiant, who, being first duly sworn by the officer authorized by law to administer oaths, deposes and states as follows:

1. I, Mary Samantha Doster, am over the age of eighteen, and I am competent to testify to the truth of the matters set forth herein.

2. I am providing this statement today because in 1995 I helped to put Mark Mize on death row by saying things that I did not know first hand and that were embellished to the jury that convicted him. I helped the prosecution because I had spent a year in jail, nearly half that time on segregated lock-down, and I couldn't stand it anymore. I knew I was innocent, but I became terrified that I would get the death penalty if I didn't help them get Mark. In the end, I just wanted to be out of jail with my nine-year-old son and shut off the whole mess. When my lawyer, Mr. Elkins, told me that all the charges would be dropped if I helped the district attorney put Mark away, I decided I valued my freedom and being with my son. Today, I want to set the record straight.

3. On or about October 24, 1994, I was arrested and charged with the murder of Eddie Tucker in Oconee County, Georgia. The guy I was seeing at the time, Mark Mize, along with Mark Allen and Chris Hattrup, were arrested on the same charges.

4. After I was arrested, I was first put in a cell at the Oconee County jail, but later I was moved to the Clarke County jail, where I stayed until I was released in October 1995. I spent about five or six months on lock-down, in isolation, while I was there. I was about 26 years old at the time I was arrested, and I had an eight-year-old son. It was probably the worst experience of my life to be locked up away from my son and facing the death penalty.

5. I corresponded with Mark Mize for several months. We would talk about how we were being set up to take the fall for something we didn't do, which was true. Mark doesn't trust lawyers very much and he would tell me not to trust my lawyer, Mr. Elkins. He would tell me that Elkins was in cahoots with the district attorney. I sat in jail for a long time thinking that I should hold out because maybe a jury would find me and Mark not guilty. But as the year wore on life in jail weighed real heavy on my mental state, and I missed my son something awful. I was scared that I would spend the rest of my life locked up or even be killed in the electric chair.

6. At some point around October 1995, my lawyer told me that he could get the district attorney to drop all the charges against me if I agreed to help the prosecution against Mark Mize. By that time, I was ready to do just about anything to get out of jail and out from under the death penalty charges. I told Mr. Elkins that I would give a statement to the district attorney in late October 1995.

7. Before I spoke with the D.A., my lawyer showed me the transcripts of all the statements given by Brian Dove, Mark Allen, Paul MacDonald and other witnesses. I met with the D.A. three or four times before the trial. He showed me all of the transcripts and the videotapes of the statements of Terry Mark Allen and Brian Dove. The D.A. had a long list of questions, he went over with me. Many times he did not like my answers to his questions and he told me I could not say that at trial. He told me what I could and could not say at trial. The D.A. told me not to say I was drunk on the night all of this stuff happened. He wanted me to say I only had a beer or two. When I talked with the D.A. he told me they had wanted Mark Mize for a long time and would do what they needed to do to get him. I do not know what he meant by that comment, but the way he said it frightened me. I was told so much by my lawyer and by the D.A., I basically just repeated what the statements said, and I added what I was told by them some in order to make my statement sound convincing. I was afraid not to tell their story. The D.A. told me I could not speak to Mark Mize's defense lawyers about what we talked about. I was also told if I did not go to each trial they would seek the death penalty on me. After I was released, Investigator Jimmy Collingsworth came to my house almost everyday. I was told he was my bodyguard, but I was scared of him. He talked with my mother-in-law and I was told that I had to do exactly what they wanted me to do or I would be in trouble. I felt like I was being watched all the time.

8. When I testified before the jury, I said some things that I did not know were true but was told to say by the D.A. because I was frightened and afraid of what this was doing to my son, Daniel. I never saw any attempt or knew of any attempt on Mark Mize's or anybody else's part to burn down any house on the night of October 15, 1994. The D.A. told me about it in one of our meetings and that a can of lighter fluid had been found at where the fire was supposed to have happened. There was also never any plan or intention to hurt or kill anyone that night, including Eddie Tucker. Mark Mize never said anything that ever led me to believe that he wanted to do anything to Eddie Tucker, other than go camping with him. Mark Mize and Eddie were friends. Eddie was even living with us at the time and worked with Mark at England Electric. It is true that Chris Hattrup was upset at Eddie Tucker for some reason. Eddie and Chris were both real drunk that night. Before we went camping Chris and Eddie got into an argument at the bar. Chris was real agitated with Eddie. Eddie was also fussing with Mark Allen. I never saw Eddie get into any arguments with Mark Mize.

9. When we got into the woods on the Walton County line, I was walking down the path with Brian Dove behind me. Mark Mize and Mark Allen were maybe five or six feet in front of me, and Eddie Tucker had moved way on up deeper into the woods and I couldn't see him. Chris Hattrup came from behind me, moved on past me and the Marks and disappeared into the woods where Tucker had gone. The four of us (me, Brian and the two Marks) were moving to the campsite when we heard the first two shots. No one said anything or told us to stop. We all stopped when we heard the two shots. Everyone was shocked, including Mark Mize. I saw Chris come back out of the woods after the second shot. He was out of breath and excited. He said something, but I couldn't hear exactly what it was. I heard one of the Marks say something like "What did you do that for!?" Then Chris went back into the woods where he had come from. Mark Mize started to follow him into the woods, but we heard another shot before he got on into the woods. I didn't hear anyone say anything else.

10. Mark Mize and Mark Allen went on into the woods and then came out with Chris Hattrup. I heard someone say that we should get out of here. We were all hurrying back to the car parked by the highway. Mark Mize was angry at Chris and a little panicky. We all were. Then we got in the car and we got rid of the gun. No one said anything about why it had been done or did we understand why it had been done. No one understood why Chris had shot Eddie. We didn't want to get in trouble for it, though, so we all decided to tell a story that we had dropped off Eddie at some convenient store before we went camping.

11. Mark Mize never planned to kill Eddie that night or told me he "shot" Eddie. There was never any plan to hurt Eddie Tucker because he did not burn down a crack house, ever. This whole thing was between two drunks—Chris Hattrup and Eddie Tucker—and no one else had anything to do with it. It was not unusual for any of these guys to have guns along when we were camping. I learned that night that guns and alcohol don't mix.

12. I can't bear to think that Mark Mize might be executed because I was frightened and weak and said what the D.A. wanted me to say. So many things were said to me prior to trial that I know a lot of things I said were fed to me by the D.A. and by my lawyer during our conversations. I was even told that they would come after me and seek the death penalty on me if I talked to anyone during Mark's appeal about my conversations with the district attorney. What I have said in this affidavit is the truth.

Executed this 15th day of June, 2000,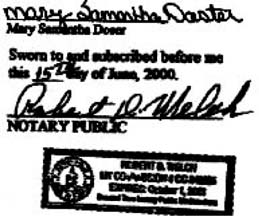 State of Georgia

County of Fulton

AFFIDAVIT OF

PALMER SINGLETON

Comes now the Affiant, Palmer Singleton, who, being first duly sworn by an officer authorized by law to administer oaths, affirms:

1. I, Palmer Singleton, am over the age of eighteen, and I am competent to testify to the truth of the matters set forth herein.

2. I am a staff attorney with the Southern Center for Human Rights, a non-profit law office which provides representation for indigent defendants facing the death penalty in Georgia and Alabama. In 1996 or early 1997, I was appointed to represent William Mark Mize in motion for new trial proceedings in Oconee County, Georgia, after trial counsel withdrew from the case.

3. Throughout my involvement with Mark Mize, he insisted that he had nothing to do with the murder of Eddie Tucker, and that the witnesses against him were lying. Mark Mize (and I) always believed that he had been wrongly convicted.

4. During my involvement in the case, I focused on guilt-innocence issues only to the extent they could be used to control and manipulate Mr. Mize. Despite Mr. Mize's obvious and repeated demands, I read this as a penalty phase case. When I obtained an undisclosed document that appeared to be based on pretrial prosecution interviews with Samantha Doster, I focused on the significance of the document as the main non-record guilt-innocence issue in the case.

5. I concentrated my investigation on penalty phase issues – specifically, mitigating life history information which was not presented to Mark Mize's jury. I also obtained court records, including transcripts, of Mark's prior criminal convictions which had been introduced as non-statutory aggravating circumstances at his sentencing. I did not initiate habeas corpus proceedings in any of those cases.

6. My read of the evidence led me to believe that the murder of Eddie Tucker did not involve any kind of conspiracy. I believed that Chris Hattrup and Eddie Tucker had gotten drunk and argued, and then Hattrup had shot Tucker. If Mark Mize was guilty of anything, he was guilty of trying to get rid of the gun and put the mess behind them. The state exploited Mize's involvement in a putative Klan organization to make the death of Eddie Tucker into something that it was not: a sinister, well organized and criminal plot.

7. The alleged attempt to burn down a supposed "crack house" in furtherance of this Klan group's goals, and specifically Tucker's alleged failure to light the fire, was employed by the state to turn an incident involving a fight between a couple of drunken good-old-boys into one featuring elaborate paramilitary maneuvers and political terrorism. If I had had information that the state's witnesses were persuaded to lie about the alleged arson attempt, that would have been invaluable in casting doubt on the state's entire theory of the case and its false explanation for the events leading to Tucker's death.

Executed this 18th day of September, 2000,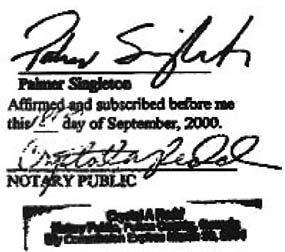 State of Georgia

County of Madison

AFFIDAVIT OF JOHN BULLA

Comes now the Affiant, John Bulla, who, being first duly sworn by an officer authorized by law to administer oaths, deposes and states as follows:

1. I, John Bulla, am over the age of eighteen, and I am competent to testify to the truth of the matters set forth herein.

2. I am a heating and air installer with ACME Heating and Air in Danielsville, Georgia. I service commercial and residential H/AC needs in the Athens area. Since 1996 I have provided periodic service at a residence at 965 North Chase Street in Athens.

3. That house has no basement, but only a very limited crawlspace. I have been in the crawlspace, which is easily accessible through an opening in the foundation. The ground is dirt. There is no access to the house from the crawlspace. You would have to cut a hole in the floor to get into the house from the crawlspace. Anyone who knows the house would know these things about it.

4. When I began servicing the house in 1996, I noticed that there had been no work on the H/AC or electrical panel for at least the prior ten years. Any H/AC tech looking at the wiring at the house would have observed the same thing. I do the wiring for the units and there was no new electrical panel in this house.

Executed this 18th day of September, 2000,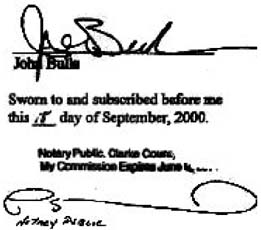 PASTOR ALAMO'S MESSAGE

CONTINUES

To fulfill God's purpose, God Himself in Christ must do the work both in and through us.52 Christ said, "Without Me ye can do nothing" (John 15:5). Unsaved people know it is impossible for them to live a godly life, which means a life of obedience to God, unless something supernatural happens unto them, unless God's power, God's strength, enters them from Heaven.53 Everyone must have God in them to do God's will, to accomplish this incredible task.54 In Christ, "all things are possible" (Matt. 19:26).

God is in Christ, and God in Christ by the Spirit lives in we who are the saints.55 We who were at one time without Christ, unsaved, know how wonderfully fantastic it is to have God in Christ by the Spirit not only live in us but work both in and through us, enabling us to do all things in Christ.56

WHAT FOOLS!
When we realize the Spirit of God is tugging at our spirits to come to Him, He is calling us in order to give us rest from all the things of the world.57 Most people who have relied on their wits, their former associations in the world, their fame, their fortune, their positions, and their temporal power find it hard to trust God in Christ enough to get on the altar with Christ and stay there with Him to the end.58 They are afraid to leave the meaningless things they currently are doing so they can have eternal life.59 They don't believe that God, who created the entire universe and the fullness thereof, could have anything better for them.60 What fools! They also don't believe that God could give them enough power within themselves to abstain from their secret lives of perversion, their sinfulness.61 Again, what fools!

On the last day, God will resurrect everyone from the dead, "they that have done good, unto the resurrection of life; and they that have done evil, unto the resurrection of damnation" (John 5:29).62 This is unparalleled power. We must believe that God has the ability to give us the power to sustain holiness and perfection.63 God would never command anyone to be perfect and holy if it were impossible.64 God would be a cruel God if He imposed an impossible task on the human race. Remember, in Christ "all things are possible" (Matt. 19:26). "We are more than conquerors through Him that loved us" (Rom. 8:37). Don't be a fool. Don't believe Satan as Eve did.65 Don't pass up eternal life, power, and glory for what your carnal mind thinks. Don't let your inferior human understanding argue with the Word of God, which is the Spirit of God.66 Our human brains are made out of dirt, just like the rest of our human bodies. Believe God and live. "Believe on the Lord Jesus Christ, and thou shalt be saved" (Acts 16:31).

We have to realize that God is calling us into an entirely new realm where, after we go through the fire, we can be wealthier than trillionaires.67 The Lord always gives us much more than we ever had when we let go of the earthly things that occupy our time.68 " The earth is the Lord's, and the fulness thereof; the world, and they that dwell therein" (Psa. 24:1). God owns the world and the fullness thereof. He also owns the entire universe. When we've given our former lives as a sacrifice to Him, we become "heirs of God, and joint-heirs with Christ [in everything that He has]" (Rom. 8:17).69

If we surrender our lives unto Him, He will save our household, which means our loved ones.70 Our loved ones will never be in Hell, but will spend eternity in the Kingdom of Heaven if, after their salvation, they continue on in the Lord serving Him till the end. What could be a better deal? For people with sense, this is the greatest offer, an offer that no one in their right mind could refuse.

God's power is infinitely stronger than political power.71 The government is supposed to be of the people, by the people, and for the people, but only under the law of God. It is not to be of perverts, of the devil, of his evil angels or of his ungodly special interest groups. Instead of following Satan, his demonic powers, and his principalities of darkness in high places, we are to obey God by rebuking them for their satanic sinfulness and their perversion of God's law. We are to tell them what God says they must do to have eternal life.72 This is the life of God in Christ in us by the Spirit, which grows up into the Tree of Life to the fullness of the stature of the Lord Jesus Christ (Eph. 4:13). Those who overcome "shall rule [the nations] with a rod of iron" (Rev. 2:26-27).

The power we have in God is eons or millions of light years more powerful than all of the most powerful men in the world put together.73 The ministers of God are the true rulers of, not only this world, but the world to come.74 Those that rule for Christ shall never die, and shall never spend eternity in Hell.75 They shall spend eternity in Heaven. It is written, "Eye hath not seen, nor ear heard, neither have entered into the heart of man, the things which God hath prepared for them that love Him" and keep His commandments, those who rule here on earth with Him (I Cor. 2:9).

We are living in the last days. The Lord is sending these powerful messages to the world through me to you as a last call.76 " For what shall it profit a man, if he shall gain the whole world, and lose his own soul? Or what shall a man give in exchange for his soul?" (Mark 8:36-37). The Lord asks all of us to give up our former lives so that all of us can, in Him, triumph over sin, Satan, the world, our own flesh, our weaknesses, and all of our carnal desires. All these things are mortified or deadened when the Spirit of God in Christ enters us.77 We become new creatures in Christ (II Cor. 5:17). We become members of a holy nation, a new nationality of people that shall never die, shall never grow old, shall always stay young, and shall never suffer again (I Pet. 2:9).78 We'll live forever, and we'll all look better than we ever have in our entire lives. No more hair transplants. No more face-lifts. No more makeup. We will look more gorgeous than any motion picture star ever looked, and again, we will always stay young. There are no tears in Heaven, no oppressors, no separation, no sickness, no disease, and no illness.79 Those who were blind will see. Those who have lost their arms, their legs, or other members of their body shall be whole. Those who were lame shall run and leap for joy. There is no sadness, no pain, and no sorrow, only happiness, glory, praise, and honor. There will be no necessity even for faith because all that is in Heaven will be seen. Here "we walk by faith, not by sight" (II Cor. 5:7). But in Heaven, faith is terminated because we will see it all and, with God in Christ, we will own it all.80 The Lord wants us all to be there. The Lord has no desire to see anyone perish and spend eternity in Hell, in the lake of fire (II Pet. 3:9).

If the Lord is calling you now, and I believe He is, don't hesitate. Hesitation causes the heart to harden.81 Hesitation is what caused Pharaoh's heart to harden, and the constant hardening of one's heart, by refusing to come unto the Lord when He calls, makes it far more difficult to grasp on to Him ever again.

God wants to use your body as His holy temple to live in here on earth. He tells you, "Give not that which is holy unto the dogs [this is your body for Him to live in]" (Matt. 7:6). To live any other way than what the Lord prescribes is giving the place that God wants to make holy to live in to the dogs.82 In other words, don't cast the pearls of this wisdom to the swine, to those you know will attempt to talk you out of it.83 They want to stop you from leaving a place in this world they think is so high, when in God's eyes, it is so low (Matt. 7:6).84

Reach out for eternal life now, and Christ will take your hand. He will help you to be the man or woman of God that He wants you to be.85 Reach out to Jesus right now. He's reaching out to you. Possess your initial eternal life now by saying this prayer:

---
Prayer
My Lord and my God, have mercy upon my soul, a sinner. 1 I believe that Jesus Christ is the Son of the Living God. 2 I believe that He died on the cross and shed His precious blood for the forgiveness of all my sins. 3 I believe that God raised Jesus from the dead by the power of the Holy Spirit 4 and that He sits on the right hand of God at this moment, hearing my confession of sin and this prayer. 5 I open up the door of my heart and I invite You into my heart, Lord Jesus. 6 Wash all of my filthy sins away in the precious blood that You shed in my place on the cross at Calvary. 7 You will not turn me away, Lord Jesus, You will forgive my sins and save my soul. I know because Your Word, the Bible says so. 8 Your Word says that You will turn no one away, and that includes me. 9 Therefore, I know that You have heard me, and I know that You have answered me, and I know that I am saved. 10 And I thank You, Lord Jesus, for saving my soul, and I will show my thankfulness by doing as You command and sin no more. 11
You've just completed the first step in a series of five steps which are necessary to receive salvation. Your second step is to deny yourself and take up the cross daily for the purpose of mortifying yourself, that is, for putting to death your own will, your soulful self, and the world with all of its lusts. All these must be baptized into the death of Christ.
Step three is your resurrection from the satanic life of Adam unto the sinless life of Christ. Step four is your ascension into a position of authority to reign for God on earth, and the fifth step is to reign for God on earth to the end for the purpose of bringing about the kingdom of Heaven on earth. You must learn the Word of God, then submit yourself and do what the Word says, so that the Church and the world may see evidence of your submission to God's Word, His order, and His authority in and by you.
Praise the Lord. May God reward you abundantly.
Pastor Tony Alamo
---
Our church receives much mail with thousands of requests for Bibles and literature. Much of our literature is printed in Hebrew, Spanish, French, Italian, German, Romanian, Polish, Czech, Russian, Chinese, Japanese, Korean, Albanian, Serbian, Telugu, Hindi, Marathi, Bengali, and Arabic. Pastor Alamo's ninety-one page book, The Messiah, is currently available in Hebrew, English, Spanish, Chinese, Russian, Portuguese, German, French, Italian, Korean, Greek, Arabic, Japanese, and Telugu. Distributors for Alamo literature are on the increase every day throughout the world.

---
Please contact us for more information or for literature on other topics which may be of interest.
Tony Alamo Christian Ministries Worldwide
P. O. Box 2948
Hollywood, CA 90078
Twenty-four hour prayer and information line: (661) 252-5686

Tony Alamo Christian Ministries Worldwide provides a place to live with all the things necessary for life to all those
in our United States locations who truly want to serve the LORD with all their heart, soul, mind, and strength.
Services held in New York City every Tuesday at 8 P.M. and at other locations nightly. Please call for more information: (908) 937-5723.
MEALS SERVED AFTER EACH SERVICE
Ask for Pastor Alamo's book, The Messiah, showing Christ from the Old Testament revealed in over three hundred thirty-three prophecies.
Become a laborer in the harvest of souls by becoming a distributor of Pastor Alamo's literature. All of our literature and audio messages are free of charge, including shipping.
CHRIST, THE WORD OF GOD, IS THE ONLY WAY, TRUTH, AND ETERNAL LIFE. 12 PASTOR ALAMO IS INTERNATIONALLY RENOWNED FOR USING THE WORD OF GOD ONLY TO PRESENT IT. THIS LITERATURE CARRIES THAT TRUE PLAN OF SALVATION. 13 DO NOT THROW IT AWAY, PASS IT ON TO ANOTHER.
Those of you who are in other countries, we encourage you to translate this literature into your native language.
If you do reprint, please include this copyright and registration:
© Copyright October, 2003 All rights reserved World Pastor Tony Alamo ® Registered October, 2003
The Tony Alamo Christian Ministries Worldwide is a division of Music Square Church, Inc.
---
"Satan's one-world government says we can be innocent and still be on death row OUR "ACTUAL INNOCENCE DOES NOT MATTER" to Rome" footnotes:
1 Exod. 14:23-25, Josh. 23:10, I Sam. 25:28, II Cor. 10:3-6, Gen. 3:15, II Chron. 20:17, Isa. 31:4, Jer. 15:20, Nah. 1:3, Zech. 14:12, Matt. 5:17, Luke 4:15, Acts 5:39, I Cor. 9:26-27, 15:32, Eph. 4:27, I Tim. 1:18, 6:12, II Tim. 4:7-8, Heb. 10:32, 11:32-34, Jas. 4:7, I Pet. 2:11, Rev. 2:16, 12:7-9, 17, 19:11, 19-21, 20:10, 15 return
2 Rev. 12:9, 18:2-10, 16:13-14, Rom. 8:7-8, Jas. 4:4, Eph. 2:3-5, Isa. 14:15-17, I Tim. 1:15, Matt. 9:13, Mark 2:17, Luke 5:32, Deut. 32:22, Psa. 51:5, 102:25-27, Isa. 14:16-17, 24:6, 19-20, 51:6, Jer. 30:7, Matt. 5:18, 6:19-21, 10:34, 13:37-39, 17:25-26, 23:34-35, 24:29-31, 35, 38-39, Mark 13:31, Luke 12:51, 17:26-27, 21:25-27, John 10:10, 16:33, Acts 13:18-19, Rom. 3:23, I Cor. 15:24, II Cor. 10:4-5, II Tim. 3:12, Heb. 1:10-12, 2:14, I Pet. 3:20, II Pet. 2:4-6, 3:10-13, I John 3:8, Rev. 2:10, 11:8, 12:12, 9:17-21, 20:2-3, 11, 21:1-2 return
3 Gen 3:15, Dan. Ch. 7, John 16:33, Rom. 8:37-39, I Cor. 9:26, 15:57-58 II Cor. 2:11, 10:3-6, Eph. 6:10-19, Phlp. 1:27-30, I Thes. 5:3-9, 21, I Tim. 1:18-19, 6:12, Heb. 12:1-4, Jas. 4:7, I Pet. 5:6-10, 1 John 2:13-18, 4:3-4, 5:4, Jude 3-15, 23, Rev. 11:1-15, 18, 12:9-17, 13:1-10, 16:16, 18:1-2, 20, 19:1-7, 20:6-10, 21:7 return
4 Rev. 12:7-9, 16:10, 13, Deut. 32:39, I Sam. 2:6, 9, II Sam. 22:30, I Chron. 29:11-12, II Chron. 20:6, 25:5, Esth. 8:10-17, 9:1-6, 7:10, Job 8:20-22, 9:12, Psa. 2:4, 8, 3:6, 18:29, 33:10, 37:13-15, 46:10, 59:8, 60:12, 69:35-36, 89:29-37, 98:1-2, 105:24, 118:15-17, Prov. 1:26, Eccl. 8:4, Isa. 54:17, Ezek. 23:32, Dan. 2:37-45, 7:13-14, 18, 21-27, Matt. 16:18, 24:30, 28:18, John 16:33, Rom. 8:16-17, 31, 33-39, Acts 5:34-39, I Cor. 15:57, Col. 1:16, Heb. 6:17-18, 11:9, 12:27-28, I Tim. 6:15, I John 4: 4, 5:4, Rev. 2:22, 6:14-17, 11:8, 15, 14:9-12, 15:4, 17:14, 21:7 return
5 John 6:63, Rom. 7:4, 12:1, 5-8, I Cor. 3:16-17, 6:15-17, 19-20, 10:16-17, 12:4-30, 15:45, II Cor. 6:16, Eph. 1:3-6, 19-23, 2:4-7, 11-22, 3:6-11, 4:1-7, 11-16, Col. 1:18, 24, 2:19, Heb. 12:22-23, Rev. 3:12, 21:2-3, 7, 9-27 return
6 Acts 17:23-25, John 3:16, Acts 2:27-28, 3:13-15, Rom. 8:1-2, 11, John 11:26, Matt. 7:15, 19:16-17, 29, Ch. 23, Mark 10:45, Luke 8:14, 9:56, John 3:36, 5:25, 6:27, 40, 10:10, 11:26, 20:31, Acts 5:19-21, 11:17-18, 13:46, 48, 15:11, 16:31, Rom. 5:10, 10:9, II Cor. 6:16, Gal. 2:20, I John 3:8, 4:9, 5:11-13 return
7 Acts 17:23-25 return
8 Ezek. 36:27, Luke, 12:11-12, John 1:4, 12:23-24, 14:15-20, 23, 26, 15:1-11, 26, 16:7-14, 17:21-23, 26, Rom. 8:1, 10-11, 26-28, I Cor. 3:9, 16-17, 6:19-20, 15:10, II Cor. 5:17-21, 6:16-18, Gal. 2:20, 3:26-29, Eph. 2:18-22, 3:16-21, Phlp. 2:12-13, Col. 1:27-29, II Tim. 1:14, I John 3:6, 24, 4:4, 5:12, Rev. 3:19-21, 14:4, 21:3 return
9 Psa. 36:7-9, Isa. 12:2-3, Matt. 5:6, John 6:32-35, 15:3, 7, Rom. 10:17, Col. 3:1-2, 16, II Tim. 2:15, 3:15-17, Rev. 22:1-2, 17 return
10 John 14:10, 12, Titus 3:8, 14, I Pet. 2:12, I John, 3:12, Dan. 5:27, Rev. 2:23, 3:2, 8, 14:13, 20:12-13, Matt. 5:15-16, 11:2, 20, 23, 13:54, 14:1-2, 23:3, Mark 6:2, 14, Luke 10:13, 19:37, John 7:7, 8:39, 9:4, 10:25, 32, 37-38, 14:10, 12, 5:20, 36, 6:28-40, 15:24, Acts 7:41, 9:36, Rom. 13:3, 12, II Cor. 11:13-15, Gal. 3:5, 10, Eph. 2:10, I Tim. 2:10, 5:10, 25, 6:12, 18, II Tim. 1:9, 3:17, 4:14, Titus 1:16, 2:7, 13-15, Jas. 2:14-26, Heb. 4:10, 10:24, Jas. 3:13, II Pet. 3:10, Rev. 2:2, 19, 26, 3:15-22, 18:6, John 21:25 return
11 Matt. 4:23, 8:24-32, 9:2-8,18-35, 12:22, 13:54, 14:14-33, 15:30-31, 21:14, 20:29-34, Mark 1:23-26, Luke 5:4-9, John 1:1-4, 14, 18, 2:1-11, 4:46-54, 10:37-38, 11:38-44, 14:1, 6-11, 13, 20, 21:25, Acts 10:38 return
12 Matt. 10:1, 17:14-21, Luke 9:6, 10:17-20, John 14:12, Acts 3:2-10, 5:12-16, 8:6-7, 9:32-41, 12:1-11, 14:8-11, 16:16-18, 19:11-12, 20:9-12, 28:8-9, II Cor. 6:3-5, Rev. 11:7-12 return
13 Mic. 5:2, Matt. 1:18-23, 2:1-15, 21-23, 4:1-17, 5:1-2, 8:1-4, 20, 9:10-17, 32-33, 12:1-8, 10-39, 15:1-14, 16:1-12, 18:1-5, 20:18-19, 21:10-13, 15, 23-46, 22:1-15, 34-46, Ch. 23, 25:31-46, 26:3-4, 27:1-6, Mark 1:30-42, 2:1-2, 16-18, 24, 3:6, 22-30, 7:1-2, 6-13, 10:2-5, 11:15-18, 27-33, 12:13-24, 38-40, 15:10-11, Luke 1:26-27, 2:9-11, 6:7-9, 11:39-44, 53-54, 12:1, 16:14-15, John 7:32, 45-48, 8:3-19, 11:45-53, 57, 12:42, 18:3, 13-14, 19:6 return
14 Matt. 1:18-23, 2:1, Luke 1:26-35, 2:4-7, John 1:46 return
15 Mic. 5:2, Matt. 2:1-6, Luke 1:26-38, 2:4-16 return
16 Matt. 13:1-2, 14:13-36, 15:29-39, 17:1-9, 19:1-2, 21:1-5, Chs. 24-25, Mark 1:16, 30-42, 2:1-2, 3:9, 13, 4:1, 5:1, 6:49-50, 53-56, 7:24-31, 8:22, 27, 9:2-9, 28, 33, 10:1, 10, 32, 11:1, Luke 4:14-16, 31, 38-44, 7:1, 8:1, 26, John 1:43, 2:1-2, 12-13, 23, 3:22, 4:3-26, 43, 46, 5:1-9, 6:1-14, 59, 8:20, 9:1-6, 13:34, 10:40-42, 11:1-44 return
17 Matt. 15:1-3, 7-9, 13-14, 17-20, 21:12-17, Ch. 23, Luke 4:16-30, 23:13-19, John 5:37-47, 8:21-23, 31-47 return
18 Matt. 15:14, John 9:39, 12:40, I Cor. 9:26-27, II Cor. 3:14, 4:4, Eph. 4:18, Jas. 4:1, I Pet. 2:11 return
19 Matt. 15:14, John 9:39, 12:40, I Cor. 9:26-27, II Cor. 3:14, 4:4, Eph. 4:18, Jas. 4:1, I Pet. 2:11 return
20 Isa. 5:20, Dan. 7:7-8, 19-26, 8:22-25, Matt. 24:21-22, Mark 13:19-20, 22, Luke 21:25-26, Rom. 13:1-14, I Cor. 10:13, II Thes. 2:3-10, I Tim. 4:1-3, II Tim. 3:2-4, 13, Heb. 2:18, 4:15, I Pet. 1:6-9, Rev. 6:4, 12:7, 9, 13:1-2, 3-6, 8-9, 16-18, 16:2, 10, 13-14, 17:1-16, 18, 18:1-10, 19:1-2, 19-20, 20:4, 10 return
21 Prov. 1:10, 15-16, 4:14-15, 19:27, Matt. 4:1-11, John 16:7-8, Acts 15:20, Rom. 6:12-14, 12:9, 21, I Cor. 6:18, 10:13-14, Eph. 4:27, 5:11-18, 6:11-18, I Thes. 4:2-5, 5:22, I Tim. 6:9-11, II Tim. 2:19-22, Jas. 4:7, I Pet. 2:11, 5:8-9, I John 4:4 return
22 Rev. 12:9, 13:3-8, 11-17, 14:8, Ch. 17, 18:2-3, 9-19, 19:2 return
23 Gen. 3:1-6, Matt. 4:1-11, 26:41, Mark 4:18-19, John 8:44, Rom. 6:12-16, 7:5-6, 18, 8:1, 5-14, 13:13-14, I Cor. 10:13, II Cor. 11:3, Gal. 5:16-21, 24, 6:8, Eph. 2:1-3, 4:16-22, 6:11-18, I Thes. 3:5, I Tim. 6:9-11, II Tim. 2:22, 3:1-7, 4:3-4, Titus 2:11-12, 3:3, Jas. 1:2-15, 4:1-5, I Pet. 2:11, 4:1-3, 5:8-9, II Pet. 2:12-14, 17-19, I John 2:16 return
24 Matt. 15:14, Acts 14:2, Rom. 1:28, 8:5-7, 11:20, 12:2-3, 13:14, II Cor. 4:4, 11:3, Eph. 2:3, Phlp. 3:18-19, Col. 1:21, 2:18, II Thes. 2:2, 10-12, I Tim. 6:17, Titus 1:15, Jas. 1:8, Rev. 12:9, 17:13-14 return
25 II Cor. 10:3-6, Acts 14:2, Rom. 8:5-7, 27, II Cor. 3:14, 4:4, 11:3, Eph. 2:3, 4:17, Phlp. 3:19, Col. 1:21, 2:18, I Tim. 6:3-5, II Tim. 3:8, II Thes. 2:2, Titus 1:15, Rev. 12:9, 17:13, Rom. 13:14, I Cor. 2:16, Gal. 3:27, Phlp. 2:5, I Pet. 3:18, 4:1 return
26 Deut. 6:5, 7:9, 10:12, 11:13, 30:6, Josh. 22:5, II Chron. 15:15, Matt. 10:37-39, Mark 12:30, Luke 10:27, John 14:15, 21, 23-24, 31, I John 2:3-6 return
27 Matt. 22:2-14, I Cor. 9:26-27 return
28 Josh. 1:8, Psa. 1:1-2, Isa. 26:3, Mark 12:30, Luke 10:27, Rom. 1:28, 8:5-8, I Cor. 2:16, II Cor. 4:4, Phlp. 2:5, II Tim. 3:8, Titus 1:15, Rev. 17:13 return
29 Luke 12:16-40, 14:16-24, 17:24-30, 21:34-36, Rom. 8:6-8, 13, 13:11-14, I Cor. 7:29-31, Gal. 6:8, Phlp. 3:18-19, Col. 3:2, Heb. 4:9-10, Jas. 4:4, I John 2:15-17, Rev. Ch. 18 return
30 II Cor. 10:2-6, I Chron. 28:9, Prov. 4:23, Eccl. 2:1-2, 7:2-4, Isa. 14:9-17, Matt. 4:1-11, 5:17-18, 48, 6:28-34, 8:21-22, 9:9, 10:37-39, 12:30, 13:23, 38-39, 17:15-20, Luke 4:2-13, 14:26-27, John 8:10-11, 44, 14:15-21, 15:18-19, Rom. 1:5, 5:19, 6:1-14, 16, 8:13-14, 12:1-2, I Cor. 2:16, Gal. 4:9, Eph. 4:27, 6:11-18, Phlp. 2:5-9, 21, I Tim. 3:6-7, 6:6, II Tim. 2:25-26, Heb. 2:14-15, Jas. 2:10, 4:4, I Pet. 1:15-16, 22-23, 4:1-5, I John 2:4, 15-17, 3:8-10, Rev. 2:19-23, Ch. 13, 14:8-11, 16:1-2, 19:17-21, 20:1-4, 21:2-3, 7-27 return
31 Gen. 3:1, II Cor. 11:3, Eph. 4:11-14, II Pet. 1:15-16 return
32 Mark 12:30, Col. 3-5-6 return
33 Psa. 39:6, 49:6-20, Eccl. 2:1-11, Matt. 6:25-34, 13:22, 16:24-26, 24:12, 37-39, 44-51, Luke 21:34-36, John 6:27, Rom. 8:6-8, I Cor. 7:29-31, Gal. 6:8, Phlp. 3:18-19, Col. 3:2-3, II Tim. 2:4, Jas. 4:4, I John 2:15-17, Rev. 12:9 return
34 Matt. 22:40, Jas. 2:8-11 return
35 Eccl. 2:1-2, Matt. 10:37-39, 12:30, 13:23, 38, Luke 14:26-27, John 15:18-19, Rom. 6:1-14, 8:13-14, 12:1-2, I Tim. 6:6, Jas. 2:10, 4:4, I Pet. 1:15-16, I John 2:15-17 return
36 Hag. 2:4-5, Matt. 5:13-16, John 9:4, Acts 5:42, 6:4Rom. 12:10-11, I Cor. 15:58, II Cor. 7:11, Gal. 4:18, Phlp. 1:27, 2:14-15, 3:14, Titus 2:13-14, II Pet. 3:14, Jude 3, 22-23, Rev. 3:19 return
37 Lev. Ch. 26, Deut. Ch. 28, Job 15:16, 20:4-5, 12-14, Prov. 4:16-17, 10:23, 26:11, Isa. 26:3, 57:20-21, Jer. 14:10, Hos. 4:8, 9:10, John 3:19-20 return
38 Jer. 51:20, Zech. 12:3-4, Luke 21:25-26 return
39 Psa. 14:1, 53:1, 74:18, 22 return
40 Isa. 14:9-17 return
41 Matt. 10:1, 26:41, Luke 10:19, John 15:5, Acts 1:8, Rom. 6:12-14, 7:14-25, 12:21, 8:1-14, 37, I Cor. 9:27, II Cor. 3:5, Eph. 4:20-24, 27, 6:11-17, Phlp. 2:12-13, Col. 3:3, 16-17, Jas. 4:7, I Pet. 1:22, 5:8-9, I John 2:13-14, 4:4 return
42 Rev. 6:15-17, 12:7-9, 16:10, 13 return
43 II Kings 6:8-20, Matt. 7:24-27, 10:1, Luke 10:19, John 10:3-5, 27, 15:5, 16:33, Acts 1:8, Rom. 3:11-12, 6:4-14, 8:1-14, 31, 37, 15:13, I Cor. 15:10, 57-58, Gal. 5:16-25, Eph. 6:10-18, Phlp. 4:13, Heb. 2:14-18, 4:14-16, I John 5:18-20 return
44 Prov. 4:14-17, 6:12-14, 16-19, Matt. 6:25-33, 24:12, John 8:44, Acts 13:10, Rom. 8:31, 37, II Cor. 4:4, I Pet. 5:8, I John 4:4, Rev. 12:12 return
45 Eph. 4:27, Jas. 4:7 return
46 Matt. 5:43-48, 7:12, 25:31-46, Mark 12:31, Luke 6:31-36, Rom. 12:10, 13:9-10, I Tim. 5:21, Jas. 2:8, II Pet. 1:5-8 return
47 Jer. 1:9-10, Matt. 4:17, 23, 9:8-26, 35, 10:7, 16-20, 27, 24:14, 45-47, 28:19-20, Mark 1:38-39, 2:1-2, 3:14-15, 5:36-41, 6:12, 16:15-16, 20, Luke 4:18-19, 43-44, 8:1-4, 9:2-6, 20:1, 24:46-48, John 5:20, 14:12, Acts 4:2-4, 5:42, 8:4, 9:15, 12, 25, 9:20, Rom. 10:15, 15:19-20, 16:25-27, I Cor. 1:17, 21, 23, 6:3, 9:14, 15:11, II Cor. 4:5, Gal. 1:8-9, 16, Eph. 2:14-17, 3:8, Col. 1:28, I Tim. 6:12, II Tim. 4:2, Titus 1:3 return
48 Ex. 3:7-10, 14:10-31, 15:24-26, Deut. 32:39, Judg. 3:9, 15, 6:36-40, II Chron. 14:11-15, 32:24, Psa. 22:24, 30:2-3, 66:20, 107:6, 19-20, 116:1-2, 138:3, Acts 3:1-10, 4:8-14, 22-31, 7:34, Jas. 5:17-18 return
49 I Chron. 16:33, Psa. 9:7, 50:3-6, 96:13, Eccl. 3:17, 11:9, 12:14, Dan. 7:9-10, Amos 4:12, Matt. 3:12, 12:36-37, 13:30, 40-43, 49-50, 16:27, 22:11-13, Mark 4:22, 8:38, John 12:48, Acts 17:31, Rom. 2:5-6, 14:10-12, I Cor. 3:13, II Cor. 5:10, II Thes. 1:7-9, II Tim. 4:1, 8, Heb. 9:27, 10:27, I Pet. 4:5, II Pet. 2:4, 9, 3:7, 10-12, Jude 6, 14-15, Rev. 6:15-17, 11:18, 20:11-15, 22:12 return
50 Psa. 119:104-105, 130, Prov. 6:22-24, Isa. 30:21, Luke 8:12, John 1:1, 14, 3:20, 8:31-32, 11:24-26, Rom. 8:1-13, 10:17, II Cor. 6:14-18, 13:5, II Tim. 3:15-17, 4:3-4, II Pet. 1:19 return
51 Ex. 23:1-9, Lev. 19:15, Deut. 1:17, 16:19-20, 17:6, Prov. 17:15, 24:11-12, Eccl. 3:16-17, Isa. 5:22-23, Amos 5:7, 11, Matt. 23:23-28, 33 return
52 Mark 13:11, John 14:10-11, 15-17, 20, 23, 17:21-23, I Cor. 3:16-17, 6:19-20, 15:10, II Cor. 6:16, Col. 1:27, Rev. 3:20 return
53 Ex. 14:14, Deut. 1:30, 3:22, I Sam. 17:47, Psa. 25:9, 28:7-8, 48:14, Isa. 49:10, Matt. 17:20, 28:18, Mark 9:23, Luke 10:19, John 1:12, 6:53, 14:6, 15:5, 16:13-15, Acts 1:8, 3:12, 6:8, 16:31, Rom. 8:37, II Cor. 5:17-19, Gal. 3:13, 29, Eph. 1:19-20, 2:1-6, 5:23, Phlp. 4:13, Col. 1:27, 2:9-10, I Thes. 1:5, II Tim. 1:7, Titus 2:12-14, 3:4-6, Heb. 13:5, I Pet. 1:18-19, 2:9, I John 4:4, 5:4, Rev. 1:8, 2:26-27, 5:9, 12:11 return
54 Psa. 51:5-7, Eccl. 9:3, Matt. 26:41, John 6:63, 14:6, 15:5, Rom. 3:10-18, 5:6-9, 14, 7:14-25, 8:1-14, 37, I Cor. 2:14, II Cor. 3:5, Phlp. 2:12-13 return
55 Ezek. 36:27, John 1:4, 14:15-20, 23, 26, 15:1-11, 17:21-23, 26, Rom. 8:1, 10-11, 26-28, 11:16, I Cor. 3:9, 16-17, 6:19-20, 15:10, II Cor. 5:17-21, 6:16-18, Gal. 2:20, 3:26-29, Eph. 2:18-22, 3:16-21, II Tim. 1:14, I John 5:7return
56 John 16:33, Acts 1:8, Rom. 8:37, II Cor. 6:16-18, Eph. 1:17-23, 3:16-21, Col. 1:10-12, 29, 2:9-10, II Tim. 1:7, I John 2:14, 4:4 return
57 Matt. 10:39, 11:28-30, 16:25, 18:8, Luke 12:22-28, 31-32, John 14:27, Heb. 4:9-10 return
58 Rom. 12:1, I Cor. 15:31 return
59 Prov. 23:5, Eccl. 2:11, 5:10-16, Matt. 13:44-46, 16:24-26, 19:16-29, Luke 12:15-34, John 6:27, II Cor. 6:2, I Tim. 6:6-10, Heb. 11:24-27 return
60 Psa. 23, 21:4, 52:8, 81:10, 84:11, 92:13-14, 121:8, 146:5, Isa. 54:17, 58:8-11, Jer. 31:11-12, Matt. 9:29, John 4:14, 5:24, 6:27, 47, 50-51, 54, 10:10, 12:25, Rom. 6:22-23, II Cor. 5:1, Titus 3:7, II Pet. 1:2-4 return
61 Psa. 28:8, 29:11, 31:24, 37:17, 55:22, 71:16, Dan. 11:32, Matt. 10:1, Luke 10:19, John 6:63, 15:4-8, Acts 1:8, Rom. 8:1-14, 37, I Cor. 10:13, Eph. 4:22-24, Phlp. 2:12-13 return
62 Job 19:25-27, Psa. 17:15, Dan. 12:1-3, Matt. 3:12, 7:13-14, 8:11-12, 13:24-30, 37-43, 47-50, 24:45-51, Ch. 25, Luke 16:19-31, 20:35-36, John 5:25, 28-29, 6:40, 44, 54, 11:23-25, Rom. 2:6-13, 6:16, 23, 8:13, I Cor. 15:53-54, II Tim. 1:7-10, Rev. 2:11, 20:11-15 return
63 John 15:1-5, Rom. 8:35-39, II Cor. 12:9-10, Eph. 4:11-16, Phlp. 3:8-14, Col. 1:2 -25, I Thes. 5:21-24, II Thes. 2:11, 13-17, Heb. 12:1-14, I Pet. 1:3-7, 13-25, I John 2:24-25, 4:4, II John 8-9, Jude 24-25 return
64 Deut. 18:13, Psa. 119:1-3, Matt. 5:48, II Cor. 13:11, Eph. 4:11-13, 5:25-27, Phlp. 2:15, 3:12-15, Col. 1:21-22, 28, I Thes. 2:10, I Tim. 6:14, II Tim. 3:16-17, Heb. 13:20-21, Jas. 1:4, II Pet. 3:3-4, 13-15, I John 3:6-10 return
65 Gen. Ch. 3, II Cor. 11:3, I Tim. 2:14 return
66 Psa. 33:6-11, 119:9, 89, Isa. 40:8, Matt. 7:24-25, 24:35, Luke 8:12, John 1:1-3, 14, 5:24, 39, 8:31-32, 11:25-26, 17:17, Acts 16:31, Rom. 10:17, II Tim. 3:14-17, Jas. 1:18, 22-25, I Pet. 1:23-25, I John 5:7, 20, Rev. 19:13 return
67 Prov. 3:13-26, 8:18-19, 14:24, 24:4, John 1:12-13, Rom. 8:16-17, 11:33-36, Gal. 3:8-9, Eph. 1:3-7, 18-23, Chs. 2-3, Phlp. 4:19, Col. 1:27, Heb. 1:14, 6:17-18, 10:32, Titus 3:7, Jas. 2:5, I Pet. 3:8, I John 3:1-2, Rev. 21:7 return
68 Matt. 13:44-46, John 10:9-10, Rom. 8:14-21, Gal. 3:29, Eph. 2:1-7, 4:22-24, Col. 1:12-14, 21-23, 26-27, 2:13-15, Rev. 1:5-6 return
69 Matt. 10:39, 16:25, 18:8 return
70 Acts 16:31 return
71 Ex. 3:6-7, 11-12, Num. 11:23, Deut. 3:24, 7:21, 32:39, 33:26-27, Josh. 4:24, II Sam. 22:18, II Chron. 20:6, Gen. Chs. 1-2, Ex. 7:19-21, 8:2-6, 16-24, 9:1-11, 15-26, 10:4-6, 13-15, 21-23, 12:29-30, 14:16-31, Psa. 2:1-5, 9-12, Prov. 11:21, Isa. 26:4, 40:12, 22, 24, 26, 28, Jer. 5:22, 20:11, 27:5, Dan. 4:35, Zech. 4:6, Matt. 10:28, 28:18, John 6:44, 14:6, Acts 5:39, Rom. 1:20, I Cor. 1:23-25, Eph. 1:19-20, 3:20, Heb. 1:14, Rev. 16:13-21return
72 II Sam. 12:1-14, Jer. 1:9-10, Matt. 9:8-26, 10:16-20, 24:45-47, 28:19-20, Mark 5:36-43, 16:15-16, Acts 9:15, 26:1-29, I Cor. 6:3, I Tim. 6:12 return
73 I Sam. 15:17-28, II Sam. 12:7-14, I Chron. 29:11-12, II Chron. 14:11, 16:9, 20:6, 25:8-9, Ezra 8:22, Neh. 1:9-10, Psa. 119:98-100, Prov. 11:16, Matt. 28:18, Acts 5:39, Eph. 1:18-19, Heb. 1:14, Rev. 16:13-21 return
74 Rev. 22:5, Acts 26:18, Matt. 4:8-10, John 14:15-20, 23, 26, 17:11, 21-26, Acts 5:3, Rom. 5:17, 21, I Cor. 3:16-17, 6:15-17, II Cor. 2:11, Gal. 3:26-29, Eph. 2:1, 4-6, 18-22, 3:16-21, Col. 2:9-10, II Thes. 2:8-12, II Tim. 2:10-12, II Pet. 1:3-4, I John 4:4, Rev. 2:26-28, 3:19-21, 5:10, 11:15, 12:9, 20:4-6, 22:5 return
75 John 11:25-26 return
76 Matt. 22:2-14 return
77 Rom. 6:5-6return
78 John 1:12, Rom. 8:14-17, Gal. 3:16, 20, 26-29, 4:3-7, 5:16, Col. 2:9-15, 3:9-11, Titus 3:3-7, I Pet. 2:9, Rev. 7:9, 13-17, 21:1-5, 9-27, 22:1-5 return
79 Job 3:17-20, Matt. 6:19-21, John 4:14, 10:28, II Cor. 5:1, Col. 1:4-6, 12-13, Heb. 11:16, I Pet. 1:3-7, II Pet. 3:13-14, Rev. 7:9, 13-17, 21:1-5, 9-27, 22:1-5 return
80 Rom. 8:24, I Cor. 13:12-13, II Cor. 5:7 return
81 Ex. 8:19, 31-32, 9:7, 12, 34-35, 10:1-2, 19-20, 27, 11:9-10, 14:3-8, Psa. 4:1, 17:6-7, 86:7, 91:15, 95:8, 118:5, Prov. 1:23-31, Isa. 58:9, 65:24, Jer. 4:3-4, 23:29, 33:3, Hos. 10:12, Mark 4:5-20, 6:52, John 12:38-40, Rom. 2:4-5, 10:17, II Cor. 6:2, Heb. 3:7-8, 13, 15, 4:7 return
82 Deut. 23:18, II Pet. 2:22 return
83 Luke 12:15-21, Acts 3:23, Gal. 5:10, Col. 2:18, Rev. 13:10 return
84 Mark 13:22, I Tim. 4:1-3, II Tim. 3:13, I John 2:23-26, Rev. 2:20 return
85 Matt. 1:21, 4:19, 8:21-22, 9:9, 10:37-38, 11:28-30, 16:24, 18:11-14, Luke 1:50, 77-78, John 6:44, 10:7-10, Acts 3:19, 26:18, Rom. 10:12-13, 11:32, 15:9, II Cor. 4:15, 6:2, 12:9, Jas. 4:8, 5:11, 15, I John 1:9, Rev. 3:20-21 return
---
"Prayer" Footnotes:
1. Psa. 51:5, Rom. 3:10-12, 23 return
2. Matt. 26:63-64, 27:54, Luke 1:30-33, John 9:35-37, Rom. 1:3-4 return
3. Acts 4:12, 20:28, Rom. 3:25, I John 1:7, Rev. 5:9 return
4. Psa. 16:9-10, Matt. 28:5-7, Mark 16:9, 12, 14, John 2:19, 21, 10:17-18, 11:25, Acts 2:24, 3:15, Rom. 8:11, I Cor. 15:3-7 return
5. Luke 22:69, Acts 2:25-36, Heb. 10:12-13 return
6. I Cor. 3:16, Rev. 3:20 return
7. Eph. 2:13-22, Heb. 9:22, 13:12, 20-21, I John 1:7, Rev. 1:5, 7:14 return
8. Matt. 26:28, Acts 2:21, 4:12, Eph. 1:7, Col. 1:14 return
9. Matt. 21:22, John 6:35, 37-40, Rom. 10:13 return
10. Heb. 11:6 return
11. John 5:14, 8:11, Rom. 6:4, I Cor. 15:10, Rev. 7:14, 22:14 return
12. John 14:6 return
13. Acts 4:12 return