Praise ye the Lord. Sing unto the Lord a new song, and His praise in the congregation of saints.
Psalm 149:1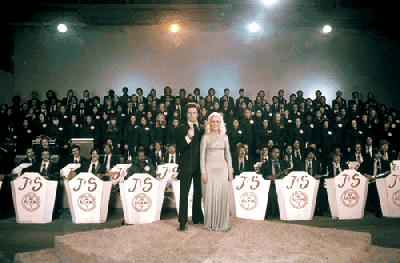 Tony and Susan Alamo and the Alamo Christian Foundation Orchestra and Choir on the set at K.C.O.P. T.V. in Hollywood, California, taping their syndicated television program in 1973.

Holy Spirit filled music and singing is and has always been one of the most important parts of the Ministry of the Tony Alamo Christian Church.

Holy Spirit filled music and singing plays a great part in the beginning of the service in opening the congregation's hearts and souls to receive the message. It makes all who minister much more anointed to bring forth the testimonies and message from the throne of the most High God.

On our television programs as well as in every service, I always begin with prayer, songs of Zion, and warm songs ministered by Holy Spirit filled musicians and singers.
Musical Recordings to Download & Enjoy:
Performed by Pastor Alamo
More Tony Alamo Songs:
What A Friend We Have In Jesus
Alamo Sisters Quintet:
Righteous Brothers:
My Lord's Done Just What He Said
Fague Springman:
Jesus Walked This Lonesome Valley
Joshua Fit The Battle Of Jericho
View: Pastors Tony and Susan Alamo archived television programs